The Eco News: OBRATORI, L'Occitane's idea explorer in Marseille
Obratori est le tout nouveau start-up studio créé par le groupe L'Occitane avec l'ambition affirmée de révéler de nouveaux produits et de nouvelles technologies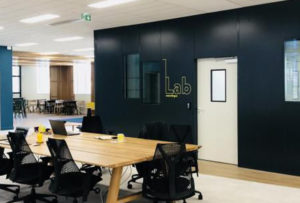 In Occitan, OBRATORI means both "laboratory" and "benevolence". This name suits very well the ambition that the L'Occitane group has set itself with this "start-up studio", namely to reveal ideas and discoveries and to help them become real.
"The objectives are multiple. The very first one is that this place has been designed in a different way from all the existing initiatives. We tried to take the best of each incubator and accelerator, and we found that there was no structure where you could find work spaces, a team dedicated to serving startups, a cosmetic laboratory, a whole network of partners and an investment fund. We have tried to bring all this together within Obratori", explains Amaury Godron, its managing director.
"Another objective is to find breakthrough innovations. But we are not exclusive, unlike many other structures. For our part, all industrial property will remain with the start-up: we really want to support it and help it create value, not pre-empt it, which is a real differentiating factor. However, we are of course ready to invest in each selected start-up, with 50,000 to 250,000 euros per project, or even more," adds the director, who specifies that Obratori has a business model that will initially last about ten years.
A desire to generate synergies
To carry out its project, L'Occitane chose to set up in Marseille. "It's a great recognition for Marseille and its region, which were in competition with cities like Lausanne or Paris", says Amaury Godron. The early stages of the project were indeed devised at the beginning of 2017, and very quickly discussions took place with Yvon Berland and Eric Berton, respectively President and Vice-President of Innovation and Valorisation of Aix-Marseille University (AMU) as well as the SATT Sud-Est.
"We very quickly decided that this project should be carried out in Marseille. We were then offered several locations, from the Silo to the Docks," says the managing director.
Obratori finally moved into the City of innovation and knowledge (CISAM) a month ago, in the historic branch of the Compagnie Générale Transatlantique, in an elegant art deco building. In the 950m2 premises, the start-up studio has 108 workplaces with numerous private spaces, a fab lab meeting the MIT standards and a cosmetic laboratory available to start-ups.
"This is extremely rare, if not unheard of! The objective is for start-ups to try to find and create synergies," underlines Amaury Godron. He adds: "With this start-up studio, we want to create a very dense ecosystem. For this purpose, the fact that we are at the heart of the City of innovation and knowledge, as a result of the partnership signed with Aix-Marseille University, is really interesting. This gives us access to qualified researchers and quality technologies. This creates value in the South: it's great for Marseille because there is a vital recruitment potential!
Creation of a first specialised company
Beyond the structural aspect, Obratori has already launched its operational phase. The start-up studio recently signed a privileged partnership with Truffle Capital, a European venture capital company managing 450 million euros in assets, for the creation and development of innovative start-ups in Marseille.
"Incubators often accelerate the development of existing start-ups. We want to go further by taking technologies and creating companies. With this in mind, we have joined forces with CapDécisif, which specialises in disruptive technologies, and Truffle Capital," explains Amaury Godron.
This venture capital fund has just created – via the BioMedTech fund – the start-up Nanosive SAS, in the field of dermo-cosmetics, under a licensing agreement with Yale University. This company will set up its operational headquarters at Obratori. Another company, currently based in Paris, is due to set up in Marseilles, as is a third specialising in cosmetics and well-being, based in the region.
We have projects related to cosmetics, well-being and everything related to R&D and digital in the broadest sense, as L'Occitane has a network of 3,000 shops. Therefore, anything that can help the customer experience interests us. Our objective is to invest directly in 10 to 12 companies, and we are going to create as many with Truffle Capital and CapDécisif, including 4 to 5 by the end of the year. But we're not interested in the quantity: our ambition is to really believe in the projects! With this in mind, the first edition of the Occitane Awards has just been launched, aimed at research centres and universities, to find new promising start-ups.

By Julien Pompey – Published on 18 october 2018 at 19h02
Link to the full article (in french) : La Provence